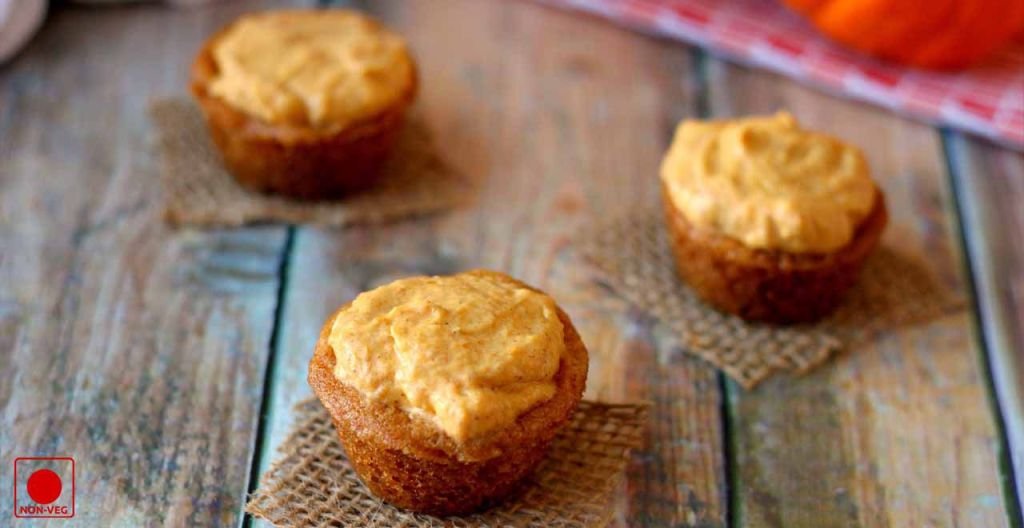 Cookies made with pumpkin, sugar, cinnamon and butter just taste delicious and must try out. Children love to this pumpkin sugar cookies. Make pumpkin sugar cookies part of your thanksgiving meal.
Ingredients
For Cookies
– 1 cup softened, unsalted butter
– 1 cup granulated sugar
– 1 egg
– 1 tablespoon vanilla extract
– 1 teaspoon pumpkin pie spice
– 1/2 teaspoon soda
– Salt to taste
– 2 cups flour
– 1/2 teaspoon cream
For Frosting
– 3 tablespoon butter, unsalted andamp; softened
– Salt to taste
– 2 cups castor sugar
– 1 1/2 teaspoon vanilla
– 1/2 teaspoon pumpkin pie spice
How To Cook?
1. Preheat the oven at 176 C.
2. Now, line the cookie sheets with parchment paper.
3. Now, in a bowl of mixer fitted with paddle attachment add butter, cream and sugar to it.
4. Then beat the egg and extract it and mix it in pumpkin pie spice, cream, salt and soda.
5. Gradually add the flour to the mixture and mix it well.
6. Scoop 1 1/2 tablespoon balls of dough on to the cookie sheets.
7. Now, place this cookie sheets into oven and bake it for 10 minutes.
8. When the bottom of the cookies turns into golden remove them from the oven.
9. Let the cookies cool for 5-10 minutes then remove them from the cookie sheets.
To Make Frosting
1. Add butter into bowl and beat it with stand mixer.
2. Mix a pinch of salt, spices, vanilla to it and mix it well.
3. Now, add castor sugar to it and mix them well until it becomes creamy.
4. Leave it at room temperature to cool
5. Now, frost cookies and top with a sprinkle of cinnamon.
Preparation Time: 30 Minutes
Cooking Time: 15 Minutes
Servings: Makes 20-22 Cookies