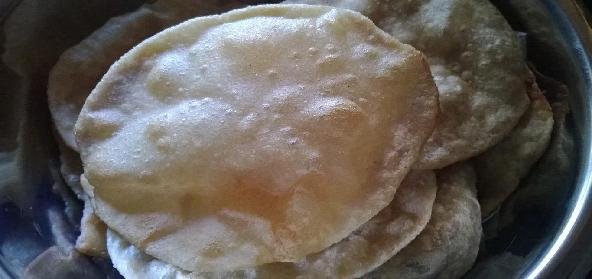 Ingredients:
• 2 cups – plain flour (maida)
• 2 tbsp – Curd
• 2 tbsp – Butter or oil
• 1/2 tsp – soda bicarb
• salt to taste
• Milk – enough to knead dough
• oil to deep fry
Method:
Mix together flour, salt and soda.
Mix in curd and oil.
Add enough milk to knead into a soft, pliable dough.
Cover with a wet cloth.
Keep aside for 5-6 hours. Make sure the cloth does not dry up.
Knead dough again.
Take a fistful of dough, roll into 5 inch diameter circles that are 1/4 inch thick.
Deep fry in oil, turning once, till they are a light golden colour. Repeat for all.
Serve hot with hot channa and slices of onions and lemon.
Recipe courtesy of Sify Bawarchi