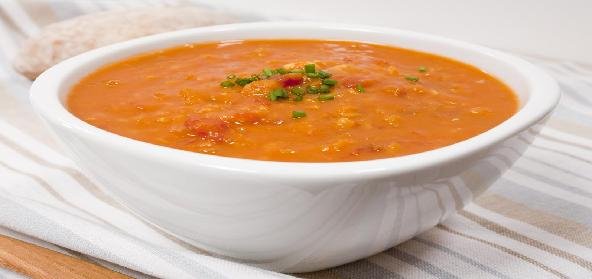 Ingredients:
• 1-cup lentil dal
• 1 Tomato (pureed)
• 1 small Onion (crushed in mixer)
• 1 tbsp – Ghee
• 1/2 tsp – chilli powder
• 1/8 tsp – Turmeric powder
• salt to taste
• 1/4 tsp – Sugar (optional)
• 1 pinch – Asafoetida
• 2 tsp – Lemon juice
• 2-3 cup water
Method:
Pressure cook the lentil dal.
Mash it and keep it aside.
Cut tomato and onion into pieces and grind it in mixer, till crushed properly.
Put ghee in a pan and heat.
Put asafetida, rai and jeera.
Allow it to splutter.
Let ghee cool down for a while.
Now, put red chilli powder, turmeric powder.
Add crushed tomato and onion and stir.
Cover the pan with lid and turn the burner to medium for 2-3 minutes.
Add lentil dal and 2-3 cup of water, (according to consistency you want) also add sugar (if you want) and lemon juice.
Stir.
Allow one boil.
Now, your soup is ready.
Garnish with coriander and serve hot.
Recipe courtesy of Prerna Jain