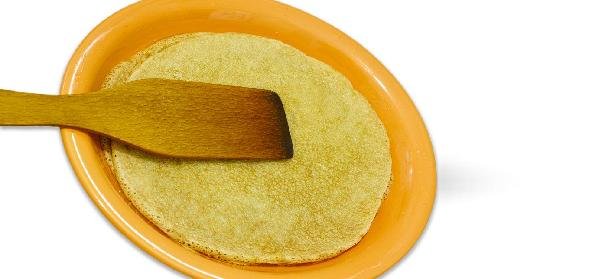 Ingredients:
• 1 cup – Ragi flour
• 1 cup – water
• 1/2 cup – Rice flour, optional
• 1 – onion, finely chopped
• 2 to 3 – green chillies, finely chopped
• 1 tbsp – finely chopped coriander
• 1 pinch – Hing
• 1 tsp – Jeera
• salt as per taste
Method:
Mix the ragi flour with 1 cup of water. The batter should be relatively thin (pouring consistency).
Add the chopped onions, coriander, jeera, hing, and green chillies, salt and keep it aside.
Heat the tava, smear 1 tsp oil on the surface.
Once heated, pour 1 large spoon of batter on it.
Spread by gently rotating the griddle.
Keep on medium heat and put some oil (1/2 tsp) on the edge of the dosa.
When the edges begin to raise, ease out the dosa with the spatula under it.
Turn it on the reverse side and let it cook. Pour oil on the edges if necessary.
Once ready, roll the dosa in a three-fold cylinder.
Serve hot with onion and/or coconut chutney/lemon pickle.
Recipe courtesy of Srividya Ganesh