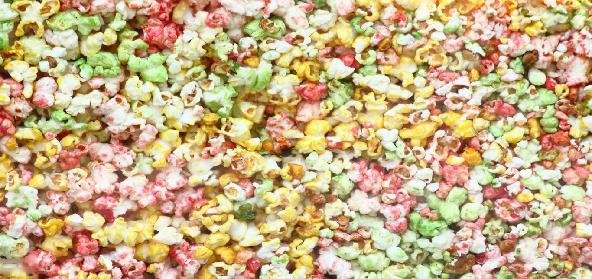 Ingredients:
• 8 cups – popped popcorn
• 1 cup – Peanuts
• 1/4 cup – Butter or margarine
• 3 tbsps – light Corn syrup
• 1/2 cup – firmly packed light Brown sugar or granulated Sugar
• 1 package (3.5 ounce) – Jello gelatine
Method:
Heat butter and light corn syrup in small saucepan on low heat.
Next add sugar and jello gelatine, and bring to boil on medium heat.
Reduce heat to low; gently simmer 5 minutes.
Pour syrup immediately over popcorn kept in a bowl. Toss the bowl to ensure even coating.
Take an oven pan and cover it using parchment paper, and spread popcorn evenly on the pan.
Bake for 10 minutes in a oven, at 300F.
Let it cool and remove from pan and break into small pieces.