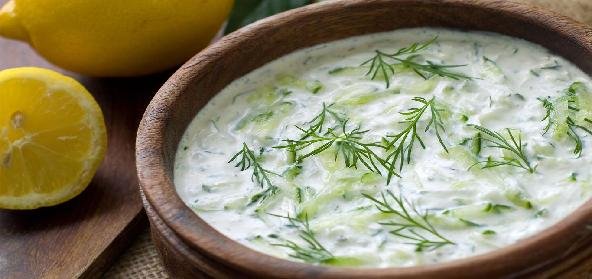 Ingredients:
• 1 cup – sour Cream
• 1 cup – Yoghurt (curd)
• 1 bunch – green Onions (chopped fine)
• 1/4 – green bell pepper (chopped fine)
• 1 – Green chilli
• small piece – Ginger
• 1 Clove – Garlic
• salt
• Turmeric powder
• Red Chilli powder
• 1tbsp – oil
• 1 – Tomato
• fresh Cilantro
Method:
Take a small bowl and mix sour cream and yoghurt. Keep it aside.
Take a small frying pan and heat a tbsp of oil.
Add chopped onions and green bell pepper to it.
Let it cook for few minutes.
In the meantime, chop the garlic, ginger and green chilli and add to it.
When the onions are done, add turmeric powder, salt and red chilli powder to it.
Now add finely chopped tomatoes to it and cook it for 2-3 mins. Then add fresh coriander leaves to it.
Now take down the pan from the cooking range and allow it to cool for 2 more minutes.
Mix it with yogurt and sour cream.
Recipe courtesy of Sandhya Jain