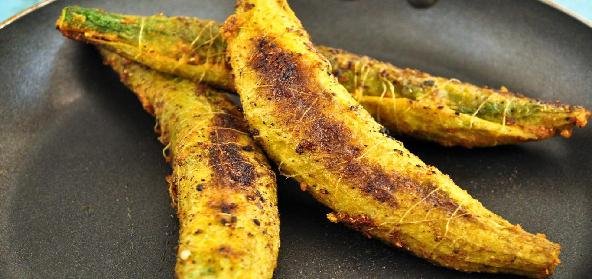 Ingredients:
• Karela – 1 pound
• Besan – 1/2 cup
• Sugar – 1/2 tsp
• Salt as per taste
• Chilli powder – 1 tsp (Or per taste)
• Turmeric powder
• Coriander powder – 4 tbsps
• Oil
Method:
Peel karela, make one slit in it and cook just for 2 minutes in boiling water.
Drain water. Let it cool and then gently squeeze the water out.
In a kadai, heat oil and fry besan.
When you smell the aroma, put all dry masala (chilli powder, haldi-dhania-salt-sugar) in besan and mix it very well.
Since besan is already hot, you don't need to fry this masala for too long.
Let this masala cool.
Now stuff this masala in the boiled karela.
Take kadai, heat oil (about 1/2 cup) and fry stuffed karela in it.
When skin is brown take it out.
Serve hot.
Recipe courtesy of Mrs. Munshi