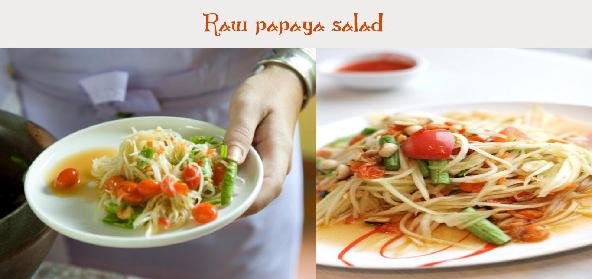 Ingredients:
• 1 medium unripened Papaya
• 2 Cloves garlic, crushed
• 1 to 2 jalapeno chillies
• 8 cherry Tomatoes
• 1/2 cup – fresh green beans, cut into small rounds
• 2 Limes squeezed and made 2 tbsp of Lime juice
• 2 tbsp peanuts, unsalted and roasted
• 1/2 tsp salt
• 1 tbsp Sugar
• 2 tbsp fish sauce
• Lettuce leaves, Cucumber slices, Carrot sticks, and shredded Cabbage for serving
Method:
Peel and halve papaya, pat dry.
Place in food processor.
Add crushed garlic cloves.
Add chillies and add salt and sugar.
Process until combined in chunks.
Add the chopped green beans and peanuts.
Add fish sauce and lime juice and toss.
Serve at once over lettuce leaves, cucumber slices, shredded cabbage, and carrot sticks.