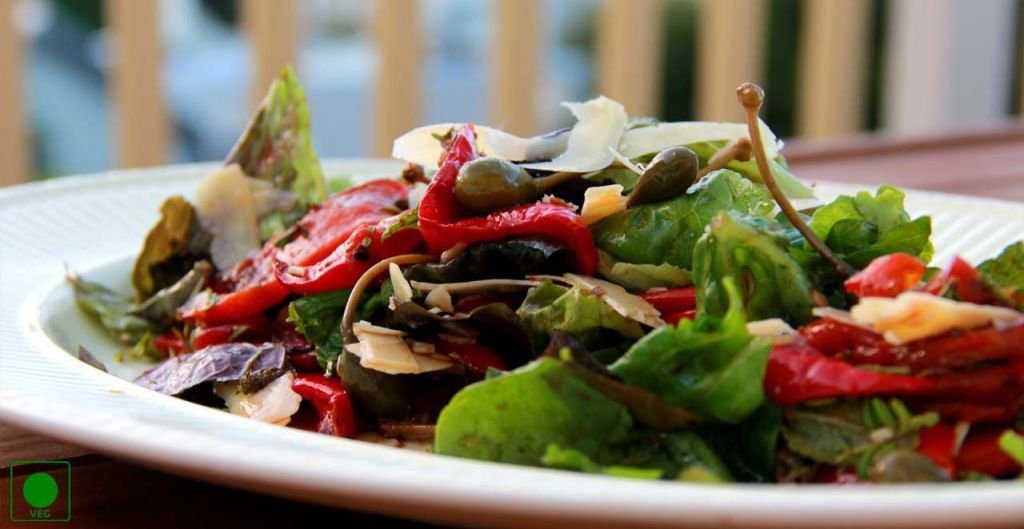 Roasted capsicum salad is very healthy, tasty salad recipe. A colorful salad plate which is very not just look attractive but also taste delicious. You can serve roasted capsicum salad with seafood, chicken or lamb recipe or can be a part of your starter menu.
Ingredients
– 5 red capsicums
– 2 tablespoon Extra Virgin Olive oil
– 4 yellow capsicums
– 1/4 cup basil leaves
– 2 tablespoon roasted pine nuts
– 1 tablespoon white wine vinegar
How To Cook?
1. Pre-heat oven at 180 C.
2. Now, prepare large baking tray with baking paper.
3. Cut the capsicums in to large pieces and remove the seeds and steams.
4. Now, properly set the capsicums, skin-side-up in the baking try in one single layer.
5. Place this baking tray into oven and bake the capsicums for 15-20 minutes. Remove it from the oven and rearrange it and change the side of the capsicum and swap trays between top and bottom racks.
6. Again cook the capsicums for 20 minutes. Once its ready set aside to cool.
7. Set capsicum inner side up on a serving plate. Drop an oil and white wine vinegar over it and garnish with basil leaves and pine nuts and serve.
Preparation Time: 15 Minutes
Cooking Time: 35 Minutes
Servings: 5 Persons