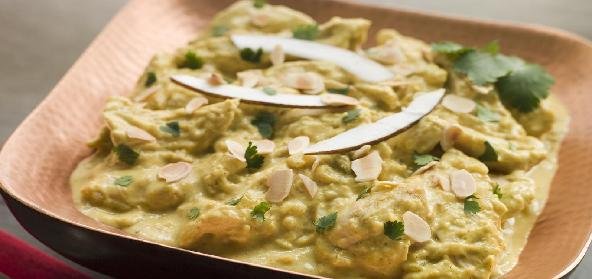 Ingredients:
• 1.5 kg – chicken, dressed
• 175 gms – Ghee
• 250 gms – Curd
• 115 gms – khoya, grated
• 115 gms – fresh Coriander leaves chopped
• 115 gms – green Coconut for extracting Milk
• 6 gms – ginger, scraped and ground
• 6 gms – garlic, ground
• 30 gms – almonds, blanched and cut into thick slices
• 15 gms – raisins, cut into halves
• 20 gms – Green chillies whole
• 12 gms – salt
Method:
Remove the skin of the chicken. Cut into pieces.
Add ginger and garlic to the chicken and marinade for 30 minutes.
Prick the green chillies with a fork and keep aside.
For extracting coconut milk, first grate the coconut, then grind it finely adding 1 cup of hot water, a little at a time.
Squeeze through a muslin.
Repeat the process to take out milk to the maximum.
Heat the ghee and fry sliced almonds and raisins separately to a golden brown.
Add salt, curd and khoya.
Cook till the curd dries up.
Add green chillies and coriander leaves and stir.
Add coconut milk and cook on low fire, stirring regularly.
No water to be added.
When tender, add almonds and raisins. Put on dum.
Remove from fire as soon as the liquid dries up.