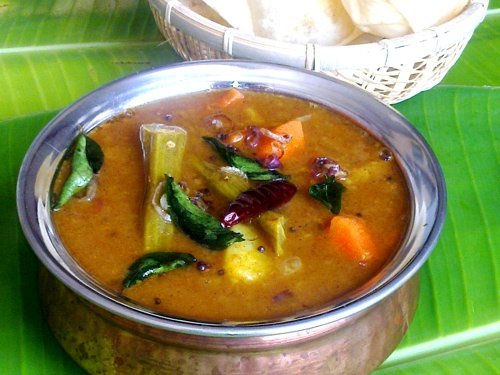 Spicy Lentil and vegetable preparation, popular in South India
Ingredients:
1 medium sized brinjal (egg plant), diced
1 drum stick, cut into 3 inch pieces
4 ladies finger (optional), cut into 2 inch pieces
1/4 cup diced pumpkin
1/4 cup diced lauki or ghiya (bottlegourd)
1 cup tuwar dal (split gram)
1/2 teaspoon turmeric powder
2 sprig curry leaves
1-2 dry red chilies
1 teaspoon sugar (optional)
2 tablespoon tamarind pulp
1/2 teaspoon red chilli powder (optional)
1 teaspoon mustard seeds
1/4 teaspoon white urad dal (split black gram)
1 medium chopped onion
1/2 cup chopped tomatoes
2 tablespoon sambar masala powder
2 teaspoon oil (or coconut oil)
Salt to taste
Method:
1. Wash tuwar dal with 2-3 cups water and pressure cook with turmeric powder, 5-6 curry leaves until done.
2. Heat oil in a kadhai, add mustard seeds, urad dal, red chilies, curry leaves and allow to crackle.
3. Add onion and fry until golden brown. Now add tomatoes and fry until oil separates.
4. Add red chilli powder, sambar masala and fry for two minutes.
5. Add vegetables, 1/2 teaspoon salt and fry for a minute.
6. Add 1 cup water, cover kadhai and cook until the vegetables are tender.
7. Now add cooked dal, sugar and tamarind pulp. Add water if required.
8. Mix well and bring to a boil. Let sambar simmer for 5-7 minutes.
9. Garnish with a few curry leaves and serve hot.
Cooking time: 35-40 minutes