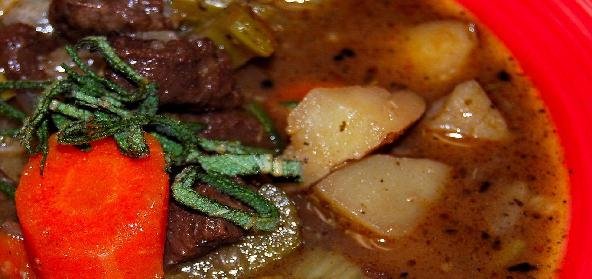 Ingredients:
• 1.5 cups – Textured vegetable protein or TVP chunks
• 3 tbsp – all – purpose flour
• 2 tsp – Mixed, dried herbs: basil, Rosemary and Oregano (Thyme, sage – optional)
• Salt and pepper to taste
• 1 tbsp – Canola or other vegetable oil
• 1 – Medium onion, chopped
• 3 – Carrots, cut into rings
• 2 – Potatoes, diced
• 2 – Celery sticks, chopped
• 4 Cloves – Garlic, minced
Method:
Mix the TVP chunks with flour, herbs, salt and pepper in a bowl.
Heat oil in a skillet and saute the chunks in batches until they develop a nice brown crust and transfer to a plate.
In the same skillet, adding more oil (if necessary) saute onions, carrots, potatoes, celery sticks, cloves and garlic.
Bring the stew to a boil, lower the heat, and then simmer for 45 minutes so the flavours blend together.
Add more salt, pepper or herbs if needed.
Immediately after turning off the heat, add 1-2 tbsp vegan butter which helps round out the flavours and adds a great smoothness to the stew.
Garnish with some parsley or sage.
Recipe courtesy: Holy Cow Vegan.