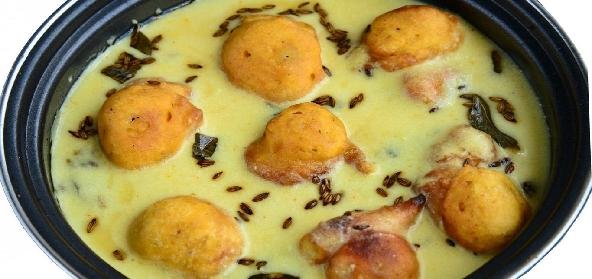 Ingredients:
• Ginger – 2 inches long
• Freshly grated Coconut – 1 cup
• Oil – 1 tbsp
• Curd – 1 cup
• Cumin seeds – 1 tsp
• Asafoetida – 1 pinch
• Red Chillies – 4
• Salt – to taste
• Coriander leaves
Method:
Heat 1/2 tbsp oil in a pan.
Cut ginger into small pieces and fry till golden brown. Remove from flame. Allow to cool and then grind with coconut to a fine paste, adding a little water.
Now heat the remaining oil, add cumin seeds and asafoetida and allow to sputter.
Add red chillies and fry till they darken a little. Add this to the ginger-coconut paste.
Add salt and curds and mix well. The amount of curds added can be adjusted to taste.
Garnish with coriander leaves.
Recipe courtesy of Chitra Prasad