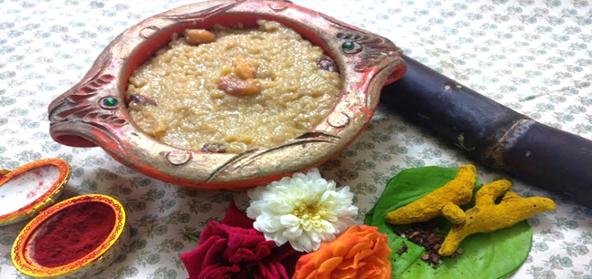 Ingredients:
• Rice – 1 cup
• Green gram dal – 1 cup (not the whole one but the broken one)
• Jaggery – 1 to 1.5 cup (according to your taste)
• Ghee – 2 tbsp
• Cashew (broken), Raisin – 1 tbsp each
Method:
Cook rice and dal together till they are well done.
Put jaggery in a kadai with 2 tbsp of water and let it melt.
After it melts, you can filter the liquid using a fine sieve if needed.
Add rice and dal mixture to the jaggery and cook stirring continuously.
Add ghee little by little and cook till the mixture thickens to be of the consistency of khichdi.
Take it off the heat.
Fry cashew and raisins in a little ghee and add to the pongal.
Mix well and serve hot or cold.
Recipe courtesy of Sify Bawarchi