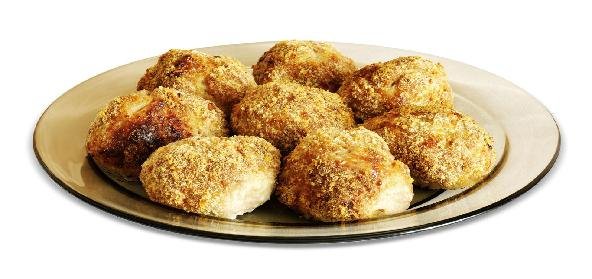 Ingredients:
• 200 g – fresh button Mushrooms
• 6 tbsps – oil
• 1 – onion, small and chopped
• 1/2 – tomato, small, chopped
• 1/4 tsp – coriander powder
• 1/4 tsp – cumin powder
• 1/2 tsp – chilli powder
• 1/2 tsp – Garam Masala powder
• 2 tbsp – potato, grated and boiled
• 2 tbsp – breadcrumbs
• 3 tbsp – Rice flour
• Salt to taste
Method:
Cut the mushrooms into small pieces.
Sprinkle with salt and set aside for 5 mins.
Heat 2 tbsp of oil in a pan and saute the onion till it turns pink.
Add the tomato and cook till soft.
Add the mushrooms and saute till half cooked.
Add the coriander powder, cumin powder, chilli powder and garam masala powder. Mix well.
Remove from heat and leave to cool.
Mix together the cooked mushrooms, potato, breadcrumbs and salt.
Make small round balls of the mixture.
Flatten into an oval dish.
Roll in rice flour and shallow fry on both sides till golden brown.
Serve hot with tomato sauce.
Recipe courtesy of IBNS