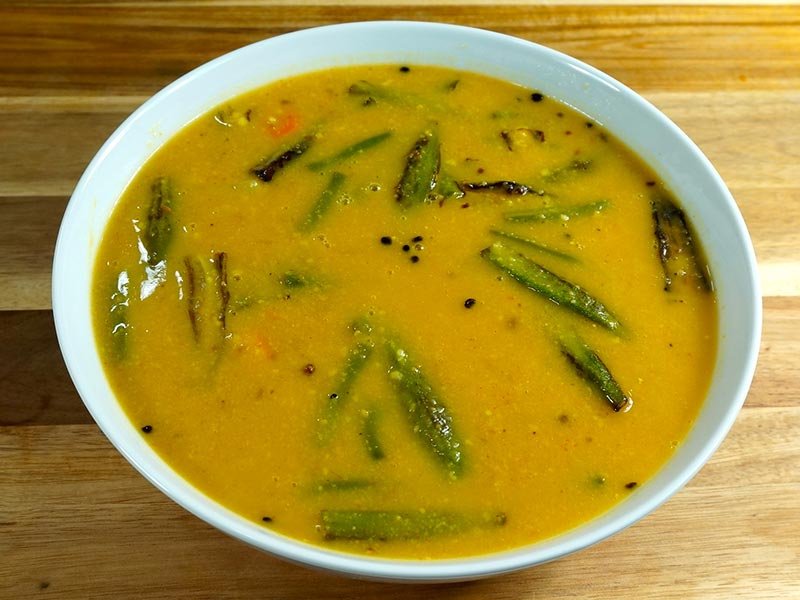 Sindhi Kadhi – a variety of Sindhi cuisine. Sindhi kadhi is a combination of different vegetables cooked with gram flour and assorted curries and masalas. Serve it with rice. As this recipe is made with lots of vegetables it's very nutritious and tasty.
Ingredients
– 100 gm gram flour
– 2 Drumstick
– 2 Potatoes
– 1 1/2 brinjal
– 100 gm green Pease
– 100 gm Ladyfingers (bhindi)
– 100 gm cucumber
– 500 gm Cluster beans (gawar)
– 50 gm cauliflower
– 5 gm kokam (garcinia indica)
– 1/2 cup Tamarind (soaked in water)
– 3 green chilies
– 1 tablespoon finely chopped coriander
– 1 teaspoon coriander powder
– 1 teaspoon mustard seeds
– 1/2 teaspoon Fenugreek seeds
– 1 teaspoon red chili powder
– 1 teaspoon garam masala powder
– 1/2 teaspoon turmeric powder
– A pinch of asafoeida (hing)
– Salt to taste
– Oil for frying
How To Make?
1. Collect potatoes, Cluster beans, Drumstick, green Pease, cucumber, cauliflower and boil it in 2 cups of water till they tender. Keep it aside.
2. Take a frying pan and Fry Ladyfingers (bhindi) and brinjals.
3. Now, heat the oil in another pan and add Fenugreek seeds when they fizz add pinch of asafoetida.
4. After few seconds add gram flour to it and saut? for 5 to 6 minutes at MEDIUM flame till it becomes golden brown.
5. when the flour becomes brown in color add 1- 1/2 cup water and stir it and add salt, turmeric powder and boil it.
6. Now, add potatoes, green peas, cauliflower, cluster beans, drumstick, and cucumber and boil it.
7. Then add ladyfingers and brinjals to it.
8. Now, add red chili powder, Tamarind and cook it.
9. At last, add kokam, garam masala, green chilies and coriander to the kadhi.
10. Now, take a pan and add 1 tablespoon oil and add cumin seeds, mustard seeds and salt and cook to 2 minute.
11. add this tempering to the kadhi and boil it for 5 minute
12. Serve hot with rice.
Preparation Time: 20 Minute
Cooking Time: 30 Minute