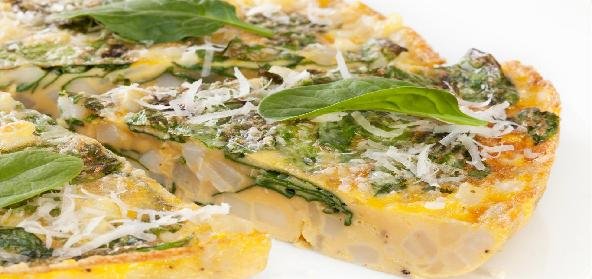 Ingredients:
• 5 tbsp – Olive oil
• 3 – medium Potatoes (peeled, sliced and lightly dusted with salt )
• 1 – white onion, minced
• 4 – minced Garlic Cloves
• 1 – ripe tomato, finely diced
• 5 – eggs
• Salt – to taste
• 1 – chopped Green chilli
• 1/2 cup – chopped fresh Spinach leaves
• 1/2 cup – parmesan cheese (any grated cheese you favour)
• 2 tbsp – Milk
• 1 tsp – Sugar
• Pepper powder – 1 tsp
• Lime juice – 1 tsp
Method:
Heat the olive oil in a 10-inch non-stick pan/skillet and add the potato slices carefully.
Cook, turning occasionally, over medium heat for 5 minutes.
Add the onions and garlic and cook until the potatoes are tender.
Take off to drain while leaving 3 tbsp oil in the pan.
In a large mixing bowl, whisk the eggs with 1/4 tsp salt, milk, sugar, minced tomatoes and chillies.
Add the potatoes, and coat them well with the egg.
Heat the oil in the skillet and add these egg-coated potatoes spreading evenly – cover the base of the pan.
Lower the heat to medium and continue to cook, until mixture is set on 1 side.
Spread spinach and cheese on half the omelette and fold the other half over.
Cover and simmer for 5 minutes on low-heat (or till cooked to your liking).
Slide onto a plate.
Season it with salt and pepper powder and sprinkle with lemon juice to taste (optional).
Recipe courtesy of Lil' Chef