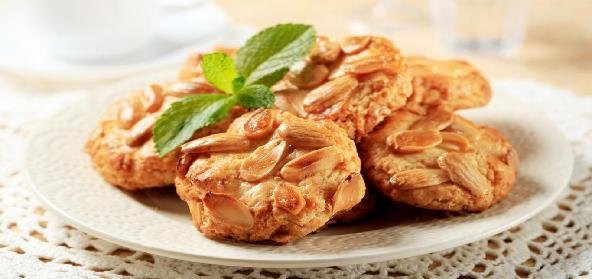 Ingredients:
• 1 cup – all purpose flour (maida)
• 1 cup – shortening
• 1 cup – Sugar
• 1 tsp – baking powder
• Cashew nuts
• Almonds
• Pistachio
Method:
Sieve all purpose flour with baking powder and keep it aside.
Mix shortening and sugar in a container. Mix it very well with hand or with the hand mixer until it becomes lighter in weight and the sugar is mixed with shortening.
Add this mixture with all purpose flour and make a smooth dough (if needed add water).
Make small round rolls with dough.
Put rolls between your palms and apply very light pressure on it.
Sprinkle some chopped dry nuts on top of it.
For baking:
Pre-heat the oven at 350 F.
Cover the baking tray with aluminium foil.
Apply some butter on the foil.
Place rolls on it leaving some space between them.
Bake it for 20-30 mins.
Turn off the heat and cool the naan khatai on cooling tray.
Serve hot or at room temperature depending upon the taste.
Note: Dough may be made hours ahead, and stored in room temperature.
Instead of shortening, you can use desk ghee or dada ghee.
Recipe courtesy of Bharti Agarwal