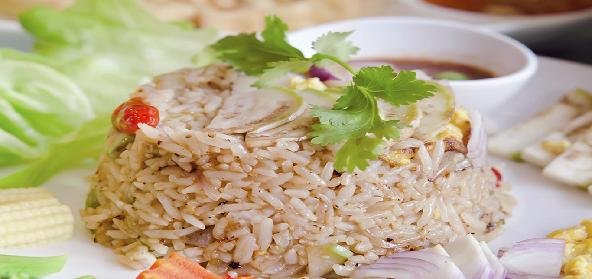 Ingredients:
• 1 bowl – cooked Rice (long grain Rice)
• 1/2 cup – boneless Chicken
• 1/2 cup – fried anchovies
• Salt and Sugar to taste
• For the sambal – Grind into a paste:
• 5 – dried chillies (soak in water)
• 2 – Cloves Garlic
• 1 tsp – belacan (shrimp paste) or as per need
• 6 – Shallots
• 1/2 inch fresh Turmeric
• Enough oil to saute the sambal
• Garnishing:
• Shredded Cucumber
• Fried crisp Shallots
• Chopped Spring onions
Method:
First, prepare the sambal. Heat some oil in low flame.
Add the sambal paste and saute until oil surfaces. Dish out in a bowl.
In a wok, add 2 tbsp oil, boneless chicken and stir fry.
Add cooked rice, stir fry until the oil coats the rice nicely.
Add the sambal, salt, sprinkle some water and stir the rice nicely. Turn off the fire.
Add the anchovies and mix.
Dish into a plate, garnish with cucumber, crisp shallots and spring onions.
Recipe courtesy of Sify Bawarchi