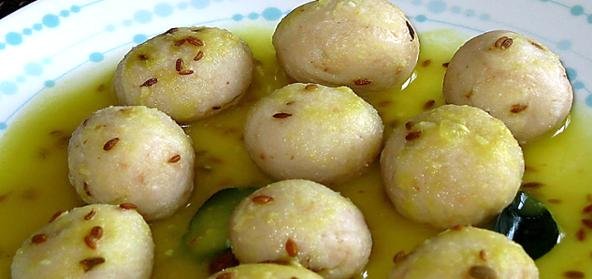 Ingredients:
• 2 cups finely powdered Rice flour
• 10 cups water (for preparing the dough as well steaming or boiling the Pidi)
• 1 tsp Cumin seeds
• 100gm grated Coconut
• 50 gm Garlic
• 2 Shallots
• Salt as required
• 2 sprigs Curry leaves
Method:
Finely chop the garlic and shallots
Boil water with shallots, cumin seeds, curry leaves and salt to taste.
Dry roast 1/2 tsp cumin seeds, chopped garlic, coconut and flour till you can smell the fine aroma of roasted flour and the spice. It must be done on low flame, while stirring continuously or else you will end up with burnt flour.
To the dry roasted mixture, add the above boiled water slowly and mix well till it becomes a soft smooth dough. Breakdown all lumps. Allow it to cool.
Make small rice balls (slightly smaller than a golf ball).
Take a wide mouthed pan, pour the spiced water, bring to a boil, drop the rice balls slowly and cook over low flame for 7 minutes.
You can also pour the spiced water in a wide mouthed steamer, place the rice balls on the steam tray and steam for 15 minutes.
You can serve it for breakfast, hot with the spiced water and chicken curry.
For Evening Snacks: Instead of salt, add sugar and serve as a stand alone.
You can also add turmeric to give a yellow colour to the `pidi`.