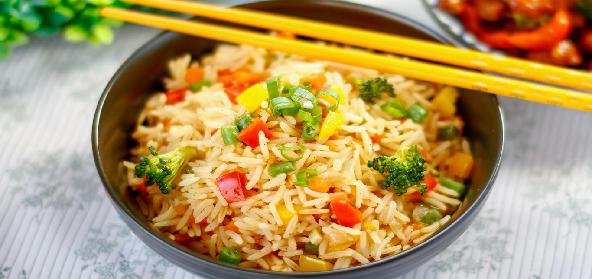 Ingredients:
• Rice – 1.5 cup
• Beans – 1/2 cup
• Carrot – 1/2 cup
• Cabbage – 1/2 cup
• Capsicum – 1/2 cup
• Spring onion – 1/2 cup
• Green peas – 1/4 cup
• Mushroom (optional) – 1/4 cup
• Chicken and Egg (optional) – 1/2 cup
• Garlic – 1 pod
• Green chillies – 3
• Pepper powder – 1.5 tbsp
• Salt to taste
• Oil and Butter
• Ajinomoto or Chinese salt
• Soya Sauce
• Sugar (optional)
Method:
Soak rice for 1.5 hour and cook with salt, garlic flakes (about 6 flakes slit and 3-4 green chillies slit), 1/2 tsp butter and a little oil.
Drain and keep aside closed.
Cut all vegetables into small cubes and fry one by one i.e. all vegetables separately in a little oil and butter, adding a pinch of table salt and Chinese salt. Fry until half cooked.
Keep all fried and cooked vegetable in separate bowls aside (you can add sugar while frying the vegetables to retain colour, but beware of the sweetness).
Fry about 5-6 flakes of garlic finely chopped in a little oil.
When golden brown, add soya sauce, about 5 to 6 tbsp to the garlic and bring to a boil. Take off from fire.
Now, in a big bowl apply butter to inside of the vessel. Put a layer of rice, cooked vegetable and the garlic-soya sauce until all the items are over with rice on the last layer.
Cover with a tight lid and slowly dum the vegetable rice for about 5 mins on high flame.
Sprinkle pepper powder on top and steam for another minute.
Take from fire and mix all the ingredients well. Place on fire once again with the lid on for another minute.
Take from fire and let it cool.
In microwave oven, layer the rice and vegetables. Sprinkle pepper powder and heat for about 7-8 mins.
Ready to serve.
Recipe courtesy of Savita Ramesh