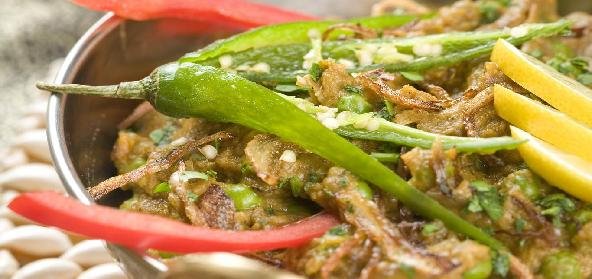 Ingredients:
• 2 large – Eggplants (baingan)
• 1 – Large Onion chopped
• 1 – Large Tomato chopped
• 2-3 – Medium Cloves of Garlic
• Half inch piece – Ginger
• salt to taste
• 1/2 tsp – Turmeric powder
• 1 tsp – Chilli Powder
• 1.5 tsp – Coriander-Cumins powder
• 1/4 tsp – Garam Masala
• 2-3 tbsp – Oil
Method:
Wash baingan and pressure cook with a little water.
When cool, peel the skin, remove the seeds and mash it lightly with a spoon.
Make a paste of ginger-garlic and keep aside.
Heat oil, add onions and fry till golden brown.
Add the tomatoes and fry it till it becomes soft almost like a gravy.
Add the ginger-garlic paste and the masalas as well as salt.
Mix well and fry again till oil separates.
Add the mashed baingan, mix it well and once again fry on medium flame till oil floats on top.
Serve hot with chapattis or paranthas.
Also goes well with bajra roti.
Recipe courtesy of Falguni