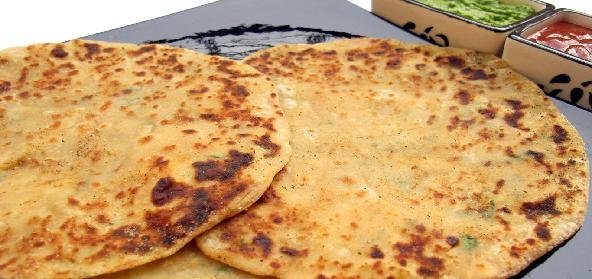 Ingredients:
• For Filling:
• 1 – cauliflower, medium size
• Oil
• Cumin seeds
• A pinch – Asafoetida powder
• 2 pinches – Turmeric powder
• 3-4 tbsp – Dhania powder
• 2 tsp – cumin powder
• Red Chilli powder – to taste
• 2-3 tbsp – gram flour (besan)
• Salt – to taste
• 1 tsp – Sugar
• For Parathas:
• Wheat flour – as needed
• Ghee
Method:
To Make filling:
Wash one medium sized cauliflower and chop it finely. Keep in a bowl of water and keep aside.
Heat oil in a pan, fry cumin seeds. When it starts to change colour add a pinch of asafoetida powder, and 2 pinches of turmeric powder.
Drain the cauliflower and add it to this. Cook covered till cauliflower is soft. Stir occasionally.
Add dhania powder and cumin powder, some red chilli powder and gram flour (besan) to the cooked cauliflower.
Stir fry till the cauliflower is coated well and dry.
Then add a little salt and 1 tsp sugar.
Remove from fire and set aside to cool.
To Make Paratha:
Make paratha dough by kneading the flour and water. Keep aside.
Once the filling has cooled, make balls with the dough, make a hole in the center and fill it with the mixture.
Roll into 5- to 6-inch round parathas.
Shallow fry with oil or ghee.
Serve hot with chutney or curd.
Recipe courtesy of Smruti Phatak