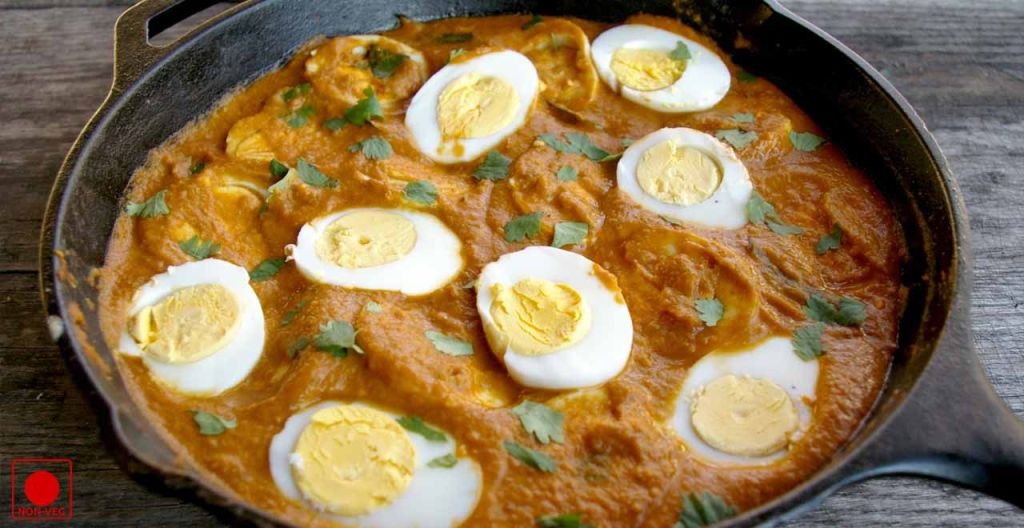 Egg masala or anda curry is cooked with boiled eggs with different Indian spices. It's quick, easy to make recipe. Anda Curry is a spicy dish and if you are not habitual to eat food with spicy masala then you need to adjust the spices according your tastes. You can choose the masalas as per your requirements. So, here is the recipe to make egg masala or anda curry recipe which can be eaten with rice and roti.
Ingredients
– 6 eggs
– 2 finely chopped onion
– 3 finely chopped tomatoes
– 2 tablespoon red chilli powder
– 5 tablespoon spoon
– 1 small piece of garlic
– 1 clove of garlic
– 1/2 teaspoon turmeric powder
– 1 tablespoon coriander leaves
– Salt to taste
How To Cook?
1. First boil the eggs and after that remove its cover and then cut the eggs into four pieces and keep it aside.
2. Now, cut the onions and tomatoes and make a gravy of it.
3. In a frying pan add 1 tablespoon oil and fry the onion-tomato gravy.
4. then add ginger-garlic paste to the gravy and cook it for 2 minutes at MEDIUM heat.
5. then add turmeric powder, salt and red chilli powder to it and again cook for 2-3 minutes.
6. when these mixture starts leaving the oil add ? cup water to it and let it boil for 2-3 minutes.
7. Now, add eggs pieces to this gravy and cook it on MEDIUM heat for 5 minutes.
8. Remove the pan from the heat and garnish egg masala with coriander leaves and serve it roti.
Preparation Time: 15 Minutes
Cooking Time: 20 Minutes
Servings: 4 Persons