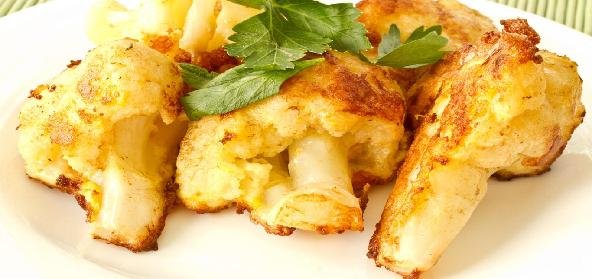 Ingredients:
• Cauliflower – 1, medium or small one
• Tomatoes – 3
• Ginger – 1.5 tsp, chopped
• Garlic – 1.5 tsp, chopped
• Onion -1
• Chilli – 1.5 tsp
• Garam Masala – 1 tsp
• Coriander seed powder – 1/2 tsp
• Cumin seed – 1 tsp
• Cashew nuts – 10
• White Corn flour – 50 g
• Oil – 4 tbsp
• Salt to taste
Method:
Cut the cauliflower into medium size florets. Boil the water in a pan and add 1 tsp turmeric powder, 1 tsp salt and put the florets in it. Turn off the flame.
Cover the pan with a lid for 5 minutes.
Make ginger/garlic paste.
Grind tomatoes, onion, coriander seed powder, garam masala powder.
Make a thin batter out of corn flour. Add a pinch of salt, chilli powder (optional).
Dip the florets one by one and fry it in oil.
Don't deep fry.
Take a pan, add some oil (2 or 3 tsp) and season it with mustard seeds.
Then add ginger-garlic paste. Add cashewnuts (or you can fry separately and add at the end) and ground mixture.
If you want a thick dsih, add only little water or add more as you prefer.
Cook till raw smell goes out. Finally add the fried florets.
You can have it as an side dish for chapatti.
Recipe courtesy of Usha Rajesh