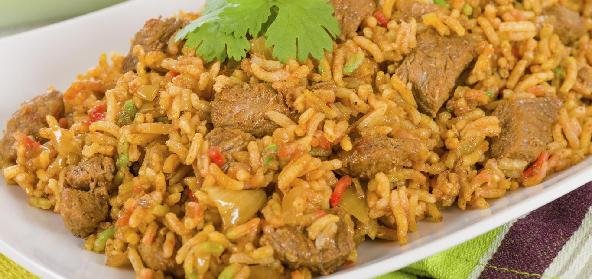 Ingredients:
• 1 kg – Mutton with bones
• 4 tbsp – fresh Ginger Garlic paste
• 1/2 cup – Green chilli paste
• 2.5 cups – Curd
• 1.5 tbsp – Garam Masala
• 2 tbsp – Cardamom powder
• Salt as per taste
• 1 medium sized Lemon
• 1 cup – Onions (cut and fried till light brown)
• 1 tsp – Saffron
• 1/2 cup – Milk
• 1 bunch – coriander
• 4 cups – basmati Rice
• 1.5 cups – oil
• 1 tbsp – Whole Garam Masala (cardamom, cinnamon, Cloves and fennel)
Method:
Wash and drain meat, add cardamom powder, lemon juice and salt to it and keep it aside for 1/2 an hour.
To this meat, add fresh ginger garlic paste, chilli paste, garam masala and curd and marinate for 50 mins.
Wash and keep rice aside.
In a utensil, boil 3 litres of water.
To this, add whole garam masala (cardamom, cinnamon, cloves and fennel) and mint leaves and salt.
To the boiling water, add rice and cook only till rice is half cooked.
Now drain and keep the half cooked rice aside.
Heat oil in a small utensil, spread the marinated meat, sprinkle fried brown onions.
Then put the half cooked rice over it and lastly sprinkle the milk and saffron strands on the top.
Close the lid and seal the edges of the utensil with aluminium foil or wheat dough.
Cook the biriyani on high flame for 5 mins and then simmer the flame.
Cook the biriyani for 30-40 min by changing the position of the container so as to avoid over cooking.
Serve it with Hyderabadi mirchi ka salan and dahi ki chutney.
Recipe courtesy of uzmanasheed