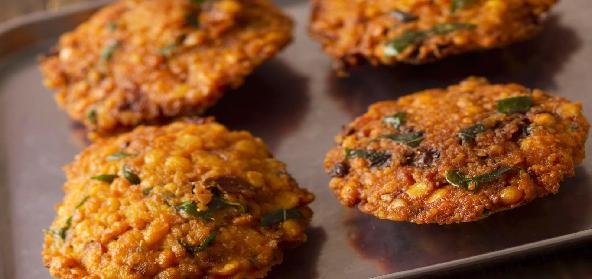 Ingredients:
• 1 cup – Sago (soaked in water for 3-4 hours)
• 1 kg – large Potatoes (boiled, peeled and mashed)
• ½ cup – Peanuts (roasted and coarsely ground)
• 2 to 3 green chilies (chopped finely)
• 1″ Ginger (grated)
• 2 to 3 tbsp – Coriander leaves (finely chopped)
• oil to fry
• 1 Lemon (juice)
• Sugar to taste
• salt to taste
Method:
Wash the soaked sago through a colander.
Dry on a kitchen towel or on a newspaper for about 2 hours.
In a large tail, place the mashed potatoes.
Add the dried sago, crushed peanuts, coriander leaves, ginger, green chilies, salt and sugar to taste.
Mix well. Add lemon juice and mix well.
Make small ball of this mixture and flatten them.
In a Kadai, heat the oil to boiling point and slowly deep-fry the vadsas on both sides till golden brown.
Drain the excess oil.
Serve hot with green chutney or coconut chutney.
Recipe courtesy of Anitha Raheja