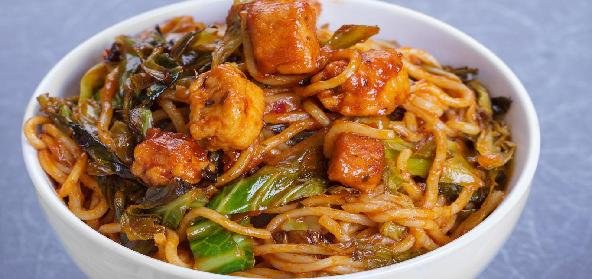 Ingredients:
• 800 gm – boneless chicken/chicken breasts
• 5 tbsp – Corn flour
• 4 – medium Onions
• 7 pods – Garlic
• 2 inches – Ginger
• 1 cube – Chicken stock
• 1 tbsp – chilli flakes
• 1 tbsp – crushed black pepper
• 4 tbsp – Tomato ketchup
• 4 tbsp – dark soy sauce
• 2 tbsp – Tomato puree
• 1-2 tbsp – Sugar
• 2 – Green chillies
• 1/2 cup – chopped Coriander leaves
• oil for frying
• salt to taste
Method:
Cut the chicken in strips and season with salt and a tbsp of cracked pepper.
Slice the onions and chop the garlic, ginger and green chillies.
Mix a tbsp of corn flour in a cup of water ensuring there are no lumps.
Crumble and add the stock cube.
Add a tbsp of sugar, ketchup and soy sauce, mix well and set aside.
Add three tbsp of water and 4 tbsp of sifted corn flour to the chicken and toss or mix to coat chicken with the corn flour.
Deep-fry the chicken until golden brown and set aside.
Stir fry the onion in 3 tbsps of oil on high heat for 1 minute.
Add the garlic and stir fry for another minute.
Add the ginger and chilli flakes and stir fry for 30 seconds.
Add the tomato puree and reduce the heat to medium. Fry for 1 minute.
Add the corn flour sauce mix, bring it to boil and thicken the sauce.
Add salt to taste. Keep in mind that soy sauce and ketchup are already seasoned.
At this stage, taste the sauce to ensure the seasoning is right and that it is not too sharp or sour.
If it is sour, add some more sugar to get rid of the sharpness or sourness (not to make the sauce sweet).
Turn off the heat and cool for 5 mins. Now add the chopped green chillies, coriander leaves and fried chicken in the sauce and stir to coat the chicken.
Serve with fried rice or noodles.
Recipe courtesy of Mitali Majumdar