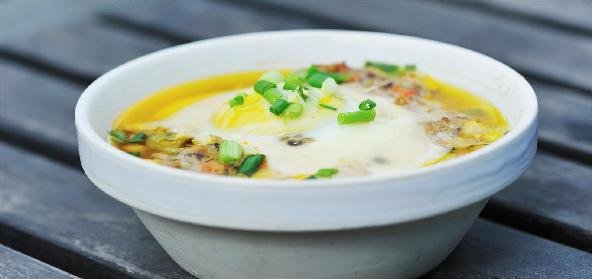 Ingredients:
• 3 – eggs
• 1 cup – water
• 1/2 tsp – soy sauce
• Salt
• 1 – green Onion
• 3 – shrimps
• 3 – dried shitake Mushrooms
Method:
Beat eggs and water well. Add soy sauce and salt.
Soak dried shitake mushroom in water for 15 mins and cut it into pieces.
Clean and cut shrimps.
Chop green onion.
Pour egg water in a small bowl that is either microwavable or oven safe.
On medium heat, boil 2 cups of water in a pot.
In the middle of the pot, place the bowl that contains egg water.
Place a lid on the pot.
After about 5 mins add green onion, mushroom and shrimp to the bowl in the pot.
Wait for 5 to 10 mins. Check if it's cooked.
Serve hot.
Recipe courtesy of Julias Cook