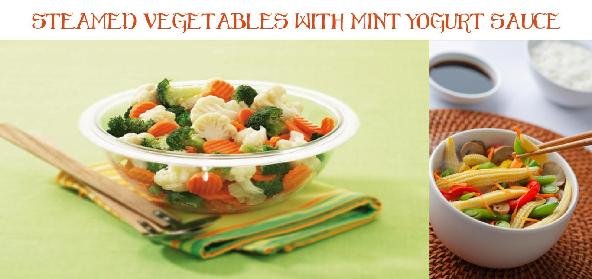 Ingredients:
• 4 cup – steamed vegetables
• 2 cup – low fat yogurt or skimmed Milk curds
• 2 cup – Mint leaves
• 2 to 3 – Green chilli
• 1 tsp – ginger, chopped
• 1 tsp – Cumin seeds
• 2 tsp – oil
• 2 tsp – Chaat Masala
• salt to taste
Method:
Heat oil and add cumin.
When it splutters, add mint, green chilli and ginger.
Fry till the mint leaves wilt and loose the raw smell.
Cool and grind with 1/2 cup curd to a smooth paste.
Add remaining curd, salt and Chaat Masala.
Cut vegetables of your choice (carrot, beans, cauliflower, broccoli, potato etc.) into 3 cm cubes and steam till tender but crunchy.
Add salt to taste. Cool slightly and mix with the sauce.
Serve with Dal and Roti or whole wheat bread.