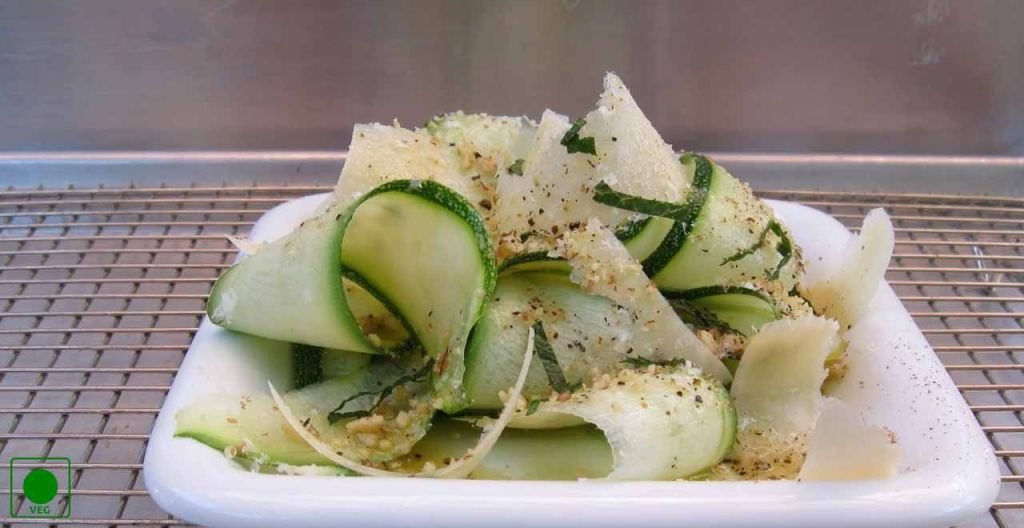 A quick and healthy way to make a zucchini salad recipe. Zucchini is like the Indian tori, but it has a lighter andamp; a softer peel. So it tastes good along with the peel. If you want, you can substitute tori for zucchini but remember to buy tender ones, but do peel them tightly.
Ingredients
– 2 zucchinis – sliced diagonally into 1/4″ thick pieces, without peeling
– 2 finely chopped tomatoes
– 2-3 teaspoon finely chopped coriander leaves
– Salt & Pepper to taste
– 1/2 teaspoon roasted cumin seeds powder
– 1 tablespoon lemon juice
– 1 teaspoon honey
How To Make?
1. Wash and cut zucchini into 1/4″ thick, slanting slices.
2. Put in a big colander and place the strainer over a pan of boiling water. Cover the strainer and steam the zucchini for 5 minutes.
3. Remove it from the fire. Pour ice cold water over it to refresh it. Leave in the strainer for 15 minutes to drain off all the water then transfer it to a bowl.
4. Add all the other Ingredients and toss. Leave it for an hour. Serve chilled.
Preparation Time: 10 Minutes
Cooking Time: 15 Minutes