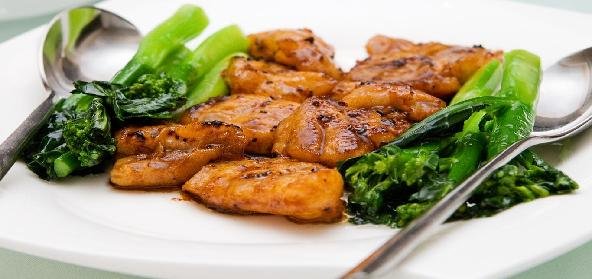 Ingredients:
• 500 gms – boneless fish fillets
• For the marinade:
• few drops of sesame oil
• Salt and pepper to taste
• 1 Egg white
• 1 – 2 tsp – corn-starch
• Other:
• 4 tbsp vegetable oil
• 1 Clove garlic, minced
• 2 slices ginger, shredded
• 1/2 red onion, sliced
• For the sauce:
• 1/2 cup fish stock, Chicken broth, or water1 tbsp – Oyster sauce
• 1/4 tsp – soya sauce
• 1 tsp – corn-starch mixed in 1 tbsp water
• Other:
• Other vegetables as desired (celery, bean sprouts, snow peas or mushrooms) 2 tsp – ground coriander, or as desired
Method:
Cut fish into approximately 1.5 inches by 1/2 inch pieces (be sure the pieces aren't too small).
Add the marinade ingredients, adding each ingredient separately and the corn-starch last.
Mix well and let the fish marinate for 10 minutes.
Prepare the sauce:
In a small bowl, combine the first 3 sauce ingredients and set aside.
In a second bowl, combine the corn-starch and water and set aside.
Heat a wok, add 2 tbsp oil.
Add the fish fillets and sear until lightly browned.
Remove the fish from the wok.
Add 2 tbsp oil to the wok.
Add the garlic, ginger, and onion and cook until the onion is lightly browned.
Add the remaining vegetables and stir-fry.
Add the sauce, heat to bubbling, and add the corn-starch and water, stirring quickly to thicken. Add the fish back into the wok. Mix everything through.
Garnish with the ground coriander before serving.