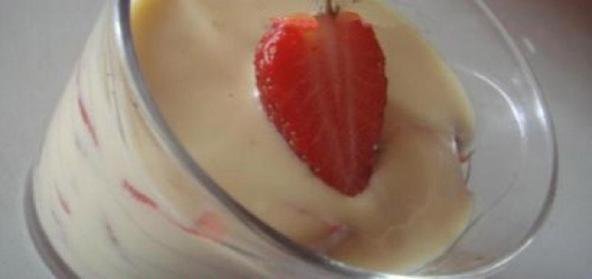 Ingredients:
• 1 cup – Full fat Milk
• 1/2 cup – Sugar
• 2 – eggs
• 1 cup – Strawberries, chopped
• 1.5 tsp – Vanilla extract
• 2 tsp – Corn flour
Method:
Heat milk in a heavy bottomed pan and bring it to a boil.
Take a large bowl, whisk egg and sugar together, until it turns soft and fluffy.
Add 1/4th of the boiled milk, slowly*, to the egg and sugar mixture and beat them together.
Now add the rest of the milk to egg mixture.
Add the vanilla extract and transfer the egg, milk and sugar mixture to the heavy bottomed pan, and stir it continuously for a while.
While cooking, this mixture will turn slightly thick.
Mix the corn flour with 2 tsp of water and keep aside.
Simmer and cook the mixture for at least 15 minutes, now add the corn flour batter and stir for a while.
Take it off the heat and keep aside.
Once cooled, place 2 tbsp of chopped strawberries in a bowl and pour the custard over.
Top it off with more strawberries, chill in the fridge for at least 4 hours or overnight.
Recipe courtesy: Priya Easy N Tasty Recipe.
Recipe courtesy of Priya