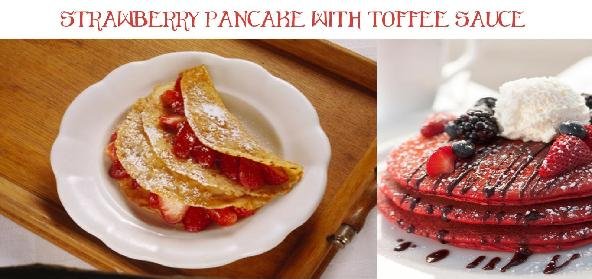 Ingredients:
• For the pancake:
• 100g – plain flour (maida)
• 1/4 tsp – salt
• 1 Egg – beaten
• 1 cup – Milk
• 1 cup – water
• For the filling:
• 1 kg – fresh strawberries, chopped
• 3/4 tin sweetened condensed Milk
• For the toffee sauce:
• 600 ml – fresh Cream
• 2 tsp – cocoa powder
• 2.5 tbsp – Sugar
• 1/4 tsp – vanilla essence
• 1 cup – thick Cream for topping
Method:
For the toffee sauce
Combine cream, cocoa powder and sugar in a pan.
Cook until mixture thickens.
Remove from heat.
Add vanilla essence and mix well.
Strawberry filling:
Cook the chopped strawberry in its own juice. Cool.
Mix strawberries with sweetened condensed milk.
For the pancake:
Sift flour and salt in a bowl. Add beaten egg. Mix well.
Combine milk and water.
Add 3/4 cup of this mixture to the flour. Beat well.
Set aside for 15 mins.
Add remaining milk and water. Mix well. Heat a non-stick frying pan, grease it lightly with butter, pour a large ladleful with butter into a frying pan and swirl pan quickly so that the batter spreads thinly.
When cooked on one side flip the pancake and cook the other side.
Remove to a plate.
Make all pancakes in this manner.
To serve: Place a little strawberry filling in the middle of each pancake and fold over.
Pour a little toffee sauce over the folded pancake.
Top with a tsp. of thick cream (over the toffee sauce) and serve.