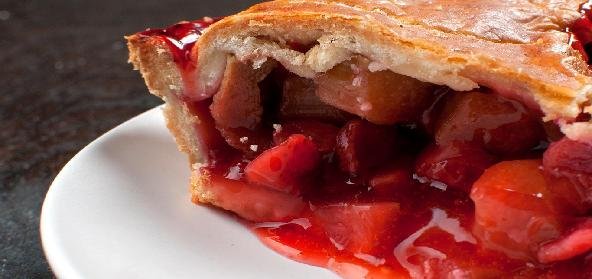 Ingredients:
• 1/2 to 1 cup Sugar
• 1/4 cup – Maida
• 1/8 tsp – salt
• 4 cups – strawberries – washed and hulled
• 2 tbsp – Butter
• Pastry for single crust pie
• Whipped Cream for decoration
Method:
Combine sugar with flour and salt. Toss lightly with the strawberries.
Fill the baking dish with the fruit mixture and dot with butter.
Top with the pastry which has been rolled out on pastry cloth to a size that is 1 inch larger all around than the top of baking dish.
Fold edges of pastry over and press down firmly on the rim of the dish.
Flute the edges and cut gashes in the pastry to allow steam to escape.
Bake at 425 degrees for 25 minutes or until crust is browned.
Serve warm with whipped cream or icecream.
Recipe courtesy of Padma Narasimhan