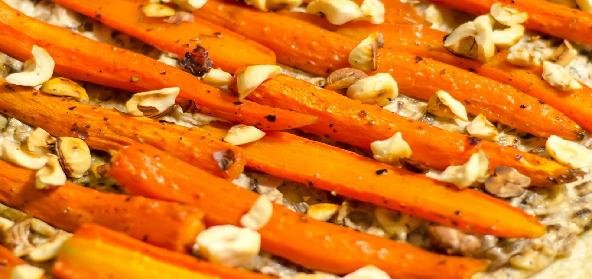 Ingredients:
• 10 thick, juicy, firm Carrots
• 1 tbsp – Spring onion greens, finely chopped
• 1 tbsp – Capsicum chopped very finely
• 1/2 tsp – Ginger grated finely
• 1/2 tsp – Garlic grated finely
• 1 Green chilli chopped very finely
• 1/2 tsp – soya sauce
• 2 tbsp – grated Paneer
• 2 tbsp – grated mozzarella cheese
• 2 tbsp – grated processed cheese
• salt to taste
• pepper to taste
• 1 tbsp – Butter
Method:
Snip off lower tapered ends of carrots.
Snip off tops too.
Boil remaining top thick carrots in water for 2 mins.
Keep aside covered for 5 mins.
Remove, drain, and dab carrots dry on a clean kitchen towel.
Make 2 lengthwise slits along carrots, such that they form a V shape.
Remove wedges, carefully scrape out a hollow all along the carrots.
Grate or finely chop all carrot trimmings, wedges, tails, etc.
Melt half tbsp butter in a heavy pan.
Add chilli, garlic, ginger, stir for a few seconds.
Add chopped carrot, capsicum, spring onion, stir fry till bright and tender.
Remove from heat, cool to room temperature.
Add paneer, processed cheese, salt and pepper.
Mix gently, stuff into hollows of scooped carrots. Press gently but firmly, to keep filling in place.
Arrange stuff carrots in a shallow ovenproof casserole.
Brush with remaining butter.
Sprinkle mozzarella cheese, salt and pepper over carrots.
Bake in pre-heated oven at 200 degree C till cheese melts. Cut into stumps or serve whole carrots, as desired.
Recipe courtesy of Saroj Kering