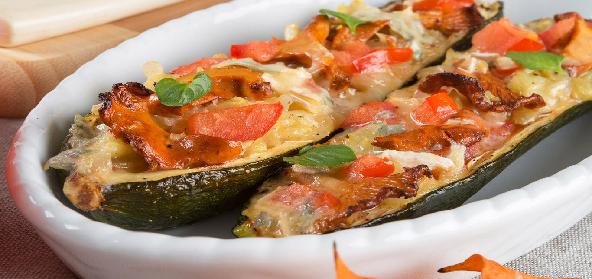 Ingredients:
• 1 kg – oval shapes baby Eggplant and baby marrow or Zucchini
• 1/4 cup – Olive oil
• 1 tsp – all spice
• 1 tbsp – salt
• 500 gms – tomatoes, sliced
• 2 cups – water or vegetable stock
• For the stuffing:
• 100 gms – onions, finely chopped
• 100 gms – tomatoes, finely chopped
• 1 bunch parsley, finely chopped
• 2/3 cups – basmati Rice
• Pepper to taste
• Salt to taste
Method:
Make a hole in the baby marrow or zucchini and eggplant, then wash thoroughly and dry.
Thoroughly mix the ingredients of the stuffing in a bowl, season with a little oil and half of the spices.
Stuff the marrow and eggplant with this mixture and set aside.
Prepare the casserole or ovenproof dish.
Place the sliced tomatoes at the bottom of the pot.
Layer the stuffed marrow and eggplant on top of the tomatoes.
Season with the remaining half of the spices and oil.
Season with salt and pepper.
Pour in enough water or vegetable stock into the pot to cover the stuffed vegetables.
Then cover them with a plate or something similar that would hold them down lightly to keep them in place.
So that the stuffing does not run out of the vegetables.
Put the pot to cook on high until it boils, lower the heat and cook for 50 mins.
Remove from heat and allow to cool.