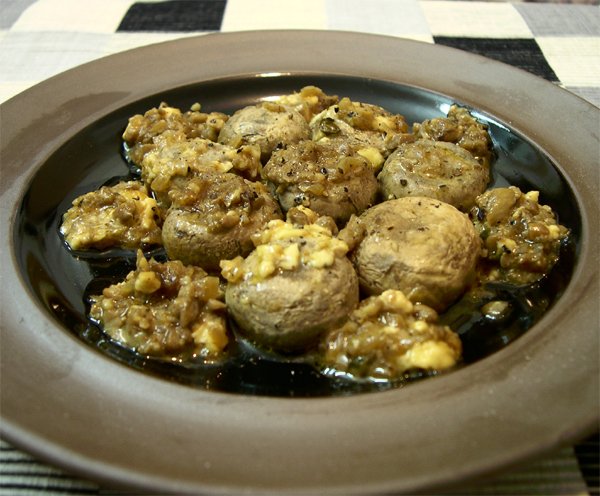 Delicious mushrooms stuffed with garlic stuffing
Ingredients:
12 whole fresh mushrooms
1 tablespoon garlic, minced
1 tablespoon chopped onion
1/4 cup grated cheese
1/4 teaspoon ground black pepper
1 teaspoon red chilli flakes
1 tablespoon oil
Salt to taste
Method:
1. Preheat oven to 350°F.
2. Wash and soak mushrooms in warm water for 2-3 minutes.
3. Wipe clean mushrooms.
4. Break off stems from the mushroom caps and chop the stems finely.
5. Heat oil in a pan, add garlic, onions and saute until transparent.
6. Now add chopped mushroom stems, salt and pepper and fry until moisture has disappeared.
7. Remove from heat and let it cool.
8. Once cool mix grated cheese, red chilli flakes in the mixture.
9. With the help of spoon, fill each mushroom cap with stuffing.
10. Arrange in a baking dish and bake in preheated oven for 18-20 minutes or until the cheese in the stuffing starts melting.
Cooking time: 20-25 minutes