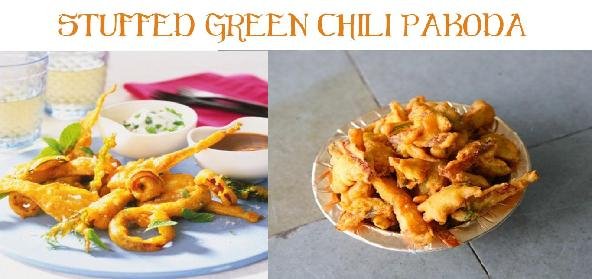 Ingredients:
• 250 g- big yellow chilies
• 1 cup- cooked mashed Potato
• 1 tsp- cumin powder
• little Asafoetida
• Lime juice to taste
• 2 tbsp- coriander leaves, chopped
• 1.5 cup- besan
• 1/2 cup- Rice flour
• 1/2 tsp- carom seeds (omam, ajwain)
• 1/2 tsp- cooking soda
• oil to fry
• salt to taste
Method:
Slit the chilies along its length, keeping both the ends intact. Remove the seeds and the ribs.
Mixed mashed potato with salt, cumin powder, asafetida, lime juice and coriander leaves. Stuff the chilies with this mixture.
Mix besan, rice flour, salt carom seeds and soda.
Add enough water make coating batter.
Dip chilies in this batter and deep fry in moderately hot oil for 2 minutes and remove.
At this stage not much batter will stick to the chilies and they will be only partially cooked.
Let them cool till they are just warm.
Dip them again in batter and fry till golden brown. Serve hot.
Recipe courtesy of Chandra Bhat