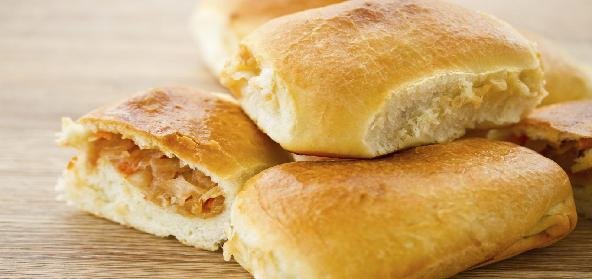 Ingredients:
• 6 – burger buns
• 3 – brinjals, firm and healthy
• 2 – Onions
• 2 – potatoes, boiled, peeled and mashed
• 1/2 tsp – ginger, grated
• 1/2 cup – Cottage cheese (paneer), grated
• 1 – cucumber, sliced thinly into rounds
• 1 – tomato, sliced thinly into rounds
• 1 – onion, sliced thinly into rounds
• 1 tbsp – oil
• 1/2 tsp – Garam Masala
• Salt and pepper to taste
• Butter to brush buns
Method:
Slit buns horizontally keeping lower portion bigger. Shape hollows in lower halves, keeping enough all around.
Hold brinjals over direct flame to roast till skin blackens.
Wash to scrape off burnt skin. Mash. (Alternately, make slits, dot with butter and microwave till soft. Mash with skin).
Heat oil, add chopped onion, fry till tender.
Add ginger, garlic and fry further for a minute.
Add brinjal pulp, stir.
Add garam masala, salt, pepper and simmer till thick or oil oozes from bubbles.
Add bun scraping, stir. cool.
Mix salt in potatoes. Keep aside.
To Serve:
Fill each hollow with brinjal mixture.
Cover and seal with a layer of potato mixture, spread to the edge of bun.
Roast on a greased, hot griddle, potato side down, till golden.
Remove and turn carefully with a spatula.
Place over potato, a slice each of onion, tomato, capsicum and cucumber.
Garnish with grated paneer. Dot with ketchup.
Place upper half of bun. Brush with butter.
Bake till warm.
Serve hot with French fries and sauce and chilled cola.
Recipe courtesy of Saroj Kering