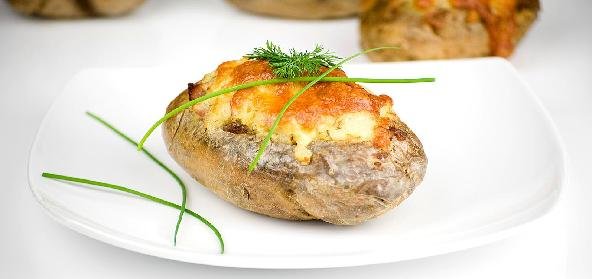 Ingredients:
• 5 to 6 medium Potatoes
• 1 cup – Paneer (grated or crushed)
• 4 to 5 Green chillies
• 1 inch piece Ginger
• 2 to 3 Cloves Garlic
• 1 crushed Red Chilli
• 1 sprig Spring onion (finely chopped)
• 1 tbsp – Butter or Ghee
• 1 tsp – soy sauce
• 1/2 tsp – Sugar
• salt to taste
Method:
Wash and peel the potatoes. Pressure cook for one whistle.
Cut out a coin shape on top of the potato and scoop out the insides, leaving a thick wall. Use a potato scooper, if available.
Mix the scooped out potato, paneer, green chillies and salt. Carefully stuff the mixture back into the potatoes and close the mouth with the coin-shaped lid.
Heat ghee or butter, add the crushed chilli, garlic and ginger. Fry for a minute. Add the spring onions, soy sauce, sugar and salt.
Carefully slide the potatoes in and coat them with the seasoning. Before serving, transfer carefully to casserole and bake in a hot oven for 7-8 minutes.
Serve hot with garlic rolls and tomato soup.
Recipe courtesy of Sify Bawarchi