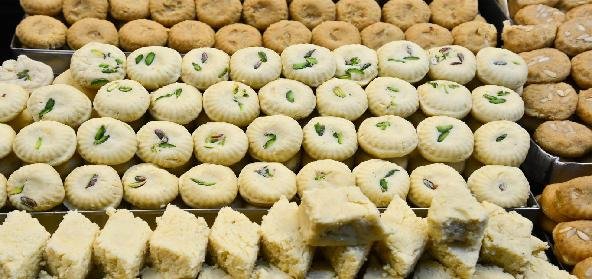 Ingredients:
• 200 gm – mawa (khoya)
• 100 gm – Sugar
• 1/2 tsp – Cardamom powder
• few strands – Saffron
• For the stuffing:
• 8 tbsp – cashew, Almond and Pistachio powder
• 2 tbsp – Sugar
• 1 pinch -cardamom, Nutmeg and Saffron paste
Method:
For the peda:
Heat, mawa on a low flame, add sugar to the mawa.
When sufficiently thick, add cardamom powder, nutmeg powder and the paste of saffron.
Mix well and allow it to cool.
Knead the mawa well.
Form pedas.
For the stuffing:
Mix the sugar and water. Boil and prepare a thick syrup.
Add the paste of saffron, cardamom powder and nutmeg powder.
Add all the powdered dry fruits.
Mix well. Cool and form small balls.
Press the pedas between the palms.
Place the dry fruit ball in the centre of flattened peda, roll on palm and form a bigger ball.
Sprinkle slices of almond and pistachio on top of pedas.
To make saffron paste:
Soak a few strands of saffron in a tbsp of water or milk for about 5 mins.
Grind with a metal or stone pestle.
Recipe courtesy of Anita Raheja