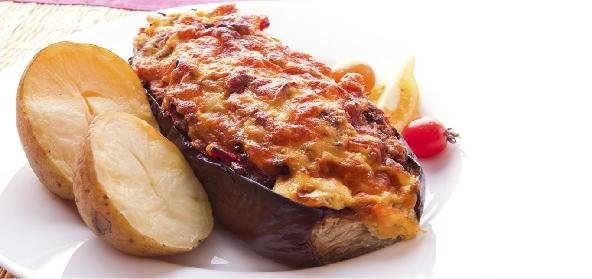 Ingredients:
• Turmeric powder – 1/4 tsp
• Brinjal or Eggplant (small size) – 7
• Channa dal – 25 g
• Urad Dal – 25 g
• Pepper – 5 g
• Coconut – 1 cup
• Red Chilli – 5 to 8 (or as per taste)
• Tamarind – a marble size of Tamarind (soak it in water before and take the juice from that) or (if it is the paste 1 – 2 tsp)
• Oil – As per usage or 50 ml
• Mustard to season
• Methi seeds – a few
• Curry leaves to season
• Salt to taste
Method:
First cut the brinjal in a criss-cross manner without cutting it fully down to the bottom so that we have to stuff the ingredients.
Fry the channa dal, urad dal, pepper and red chilli in a frying pan with little oil until it is brown.
Grind it in the blender with the fresh grated coconut coarsely.
Then stuff this ground items in the brinjal and keep the remaining masala.
In the pan, put oil. Let it splutter. Add the mustard seeds, methi seeds and the curry leaves.
Add the stuffed brinjals to this and fry until it is done.
Do not worry if the stuffing comes out. But make sure that the brinjal is well done because if you add the tamarind to the mixture, the brinjal won't cook.
After making sure the brinjal is well-done, add tamarind, turmeric powder and let it simmer for 10 – 15 mins.
After the smell of tamarind is gone, add the leftover masala to the mixture and let it thicken.
Serve it with hot rice or ghee rice.
Recipe courtesy of Kavitha