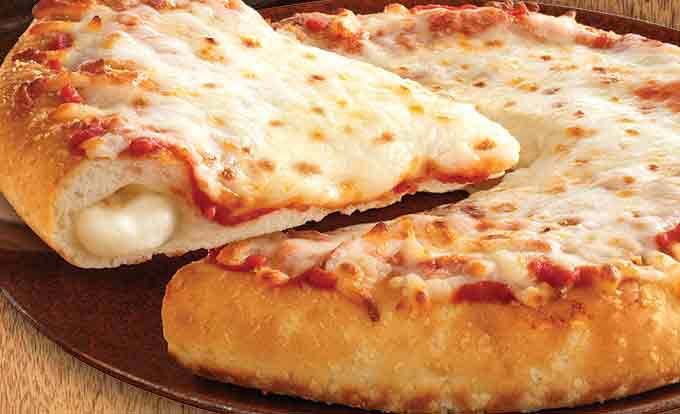 Tasty and different pizza stuffed with vegetable stuffing made in spicy tomato sauce
Ingredients:
For Pizza
1 packet active dry yeast
3/4 cup warm water
3 cups all-purpose flour (maida)
1 teaspoon salt
6 tablespoon olive oil
For Tomato Sauce
2 medium sized onions, chopped
1 cup finely chopped tomatoes
2 teaspoon ginger garlic paste
1/2 teaspoon red chilli powder
1/4 teaspoon black pepper powder
1/4 teaspoon dry oregano herb
2 tablespoon oil
Salt to taste
For Stuffing
4 tablespoon finely chopped onion
4 tablespoon chopped capsicum
1 cup vegetables of your choice (2 tablespoon chopped mushrooms (optional)
3 baby corns, sliced into 1/2 inch pieces
2 tablespoon olives chopped)
1 minced garlic
3 tablespoon olive oil
Salt and pepper to taste
1/4 teaspoon red chilli flakes
3 teaspoons fresh chopped basil
1/4 cup fresh ricotta cheese (optional)
1/4 cup shredded mozzarella cheese
3 tablespoon grated parmesan cheese
Method:
For Tomato Sauce
1. Heat oil in a kadhai, add ginger garlic paste and fry for a minute.
2. Add onion and stir fry until golden brown.
3. Add tomatoes and fry until oil separates.
4. Season with red chilli powder, black pepper powder, oregano and salt. Keep aside.
For Pizza
5. Dissolve yeast in 1/2 cup of warm water and keep aside for 10 minutes until bubbly.
6. In a large bowl combine flour, salt, yeast mixture and mix thoroughly with your hands.
7. Add water a little at a time and knead into a medium soft dough.
8. Place in a well oiled bowl, cover with plastic wrap and keep aside until doubled for about 1 1/2 hours.
9. Knead the dough once again and divide the dough into two balls of equal portions.
10. Preheat oven to 425 degrees F.
For Stuffing
11. Heat olive oil in a pan and sauté garlic and onions ad capsicum until transparent.
12. Add vegetables (mushrooms, baby corns and olives) and cook until done.
13. Add tomato sauce, red chilli flakes, salt, pepper, chopped basil and cook over low heat for 15-20 minutes. Remove from heat and set aside to cool.
14. Mix together ricotta, mozzarella and parmesan cheese and set aside.
Assembling
15. Roll the pizza dough balls to flat discs of about 1 inch thickness.
16. Place on a greased round oven-proof pan.
17. Place half the stuffing on one half of the pizza base, keeping a 1 inch border clean.
18. Sprinkle cheese mixture over the spread stuffing.
19. Fold the top half of the dough across and seal the edges together by pressing hard.
20. Bake for 25-30 minutes or until puffy and golden.