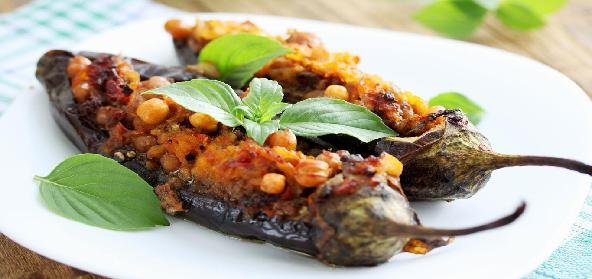 Ingredients:
• 3 – big Brinjals
• 1 bunch – coriander, chopped
• 1/2 cup – green garlic, chopped
• 1 cup – grated Coconut
• 3 flakes – garlic, crushed
• 3 tsp – dhania-jeera powder,
• 3 tsp – Red Chilli powder,
• 2 tsp – sugar,
• 1 tsp – Turmeric powder
• salt to taste
• 5 tbsp – oil
• 3 cubes – cheddar cheese, grated
• oil to deep fry
Method:
Wash and cut the brinjals into 1.25 cm thick round slices.
For the stuffing, combine the coriander, green garlic, grated coconut, garlic, dhania-jeera powder, red chilli powder, turmeric powder, salt and sugar in a bowl. Mix well.
Take a brinjal slice, put some stuffing on it and press another slice over it, like a sandwich.
Repeat with all the slices of brinjal.
Heat oil in a shallow non-stick pan.
Carefully place the stuffed brinjal slices on the pan, cover and cook on low flame until the lower slice is brown.
Carefully turn to cook the other side.
Grease a microwave-safe dish and place the stuffed brinjal pairs in it.
Sprinkle grated cheese over them and grill for 10 mins.
Serve hot.