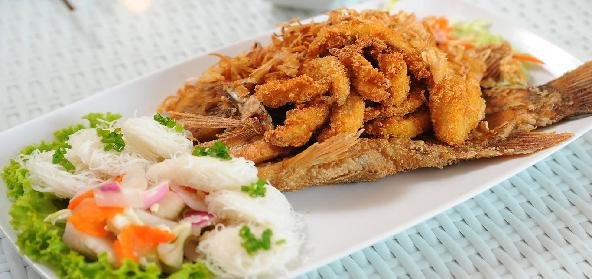 Ingredients:
• 500 g – Pomfret fish (washed)
• 2 eggs (beaten)
• oil to shallow fry
• salt to taste
• To be Ground to a Very Fine Paste:
• 2 tbsp – bread crumbs
• 4 Onions (finely chopped)
• 2.5 piece – Ginger
• 10 Cloves Garlic
• 6 Green chillies (chopped)
• ½ tsp – Garam Masala powder
• 1 tsp – Cumin seeds (roasted and powdered)
Method:
Boil the fish, de-bone and mash thoroughly.
Add the ground paste to it along with the eggs and mix to form a thick paste.
Divide into equal small round balls and flatten each ball in between your palms.
Heat oil in a heavy bottom pan and shallow fry 3 to 4 tikkas at a time until golden brown on both sides.
Serve hot with tomato ketchup and chutney.
Recipe courtesy of Anita Raheja