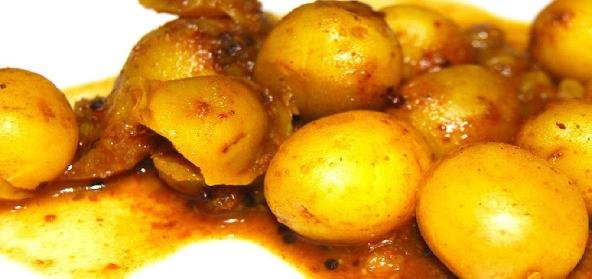 Ingredients:
• 1 pound – tiny baby potatoes, about 1.5 centimetres in diameter
• 1-inch diameter ball – Tamarind (soak in 1 cup water for about 15-30 minutes, crush the Tamarind pulp with your fingers before straining, discard the solids and set the pulp aside)
• 1 tbsp – jaggery, grated
• 1 tsp – Mustard Seeds
• 10 – Curry leaves (optional)
• A pinch of Asafoetida (hing)
• 2 – dry Red Chillies
• 1 tbsp – Coriander seeds
• 1 tsp – roasted Cumin seeds
• 1/2 tsp – Turmeric
• Salt to taste
• Oil to spray the pan
Method:
Powder the red chillies, coriander and cumin seeds and set aside.
Spray oil in a pan and add the asafoetida and the mustard seeds. When the seeds sputter, add the powdered spices and stir well for about 30 seconds.
Add the tamarind pulp, jaggery and 2 cups of water.
When the sauce comes to a boil, add the potatoes. Return the mixture to a boil, slap on a lid, and let the sauce simmer for another 10 minutes or until the potatoes are cooked through.
You can take a potato masher and mash some of the potatoes at the end, leaving the rest whole. This gives the sauce some body.
Garnish with fresh coriander leaves, if desired.