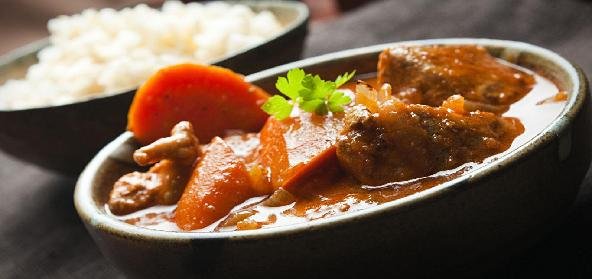 Ingredients:
• 1/2 kg-boneless Chicken
• 2- Onion finely chopped
• 2- Tomato
• soya sauce (optional)
• 3 tsp-chilli powder
• 2 tsp-coriander powder
• 1 tsp- Garam Masala
• 2 tsp-ginger Garlic paste
• oil for fry
• salt
• Coriander leaves
Method:
Cut boneless chicken into pieces and mix it with chilli powder, coriander powder, turmeric powder and soya sauce for half an hour. Grind tomato into paste.
Deep fry the chicken in oil till the chicken done.
Heat oil in another pan and add ginger garlic paste and saute it. Add chopped onions and saute it then add tomato paste to it and add some water.
Then add chilli powder, coriander, garam masala powder and turmeric powder and bring it to boil.
Add fried chicken into this gravy and salt for taste and bring it boil and finally add coriander leaves.
Recipe courtesy of Sapna