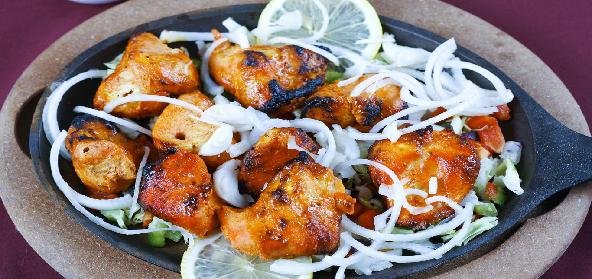 Ingredients:
• 750 g – boneless Chicken pieces
• 2 cups – thick Curd
• 2 tbsp – fresh Cream
• 4 – green chillies, made into a paste
• 3 tsp – Ginger Garlic paste
• 1 tsp – Red Chilli powder
• 2 tsp – Cumin seed powder
• 1 tsp – Garam Masala powder
• 8 to 10 – fresh Mint leaves, coarsely crushed
• A few drops – Orange colour
• 5 to 6 tbsp – oil, for greasing and basting
• Salt to taste
Method:
Wash the chicken pieces.
Pat dry with a clean napkin.
Tie curds in a fine muslin cloth and hang for about 40 mins to remove the excess water.
In a bowl mix curds, fresh cream, ginger garlic and green chilli paste, red chilli powder, cumin seed powder, garam masala powder, coarsely crushed mint leaves, drops of orange colour and salt to taste.
Mix well.
Marinate the chicken in the curd mixture for an hour.
Grease the skewers.
Thread the chicken pieces on the greased skewers or place the chicken pieces on the greased wire tray in the oven, with another tray below it (to collect the liquid that drips).
Occasionally, baste each chicken piece with few drops of oil and turn at regular intervals to ensure that it cooks evenly.
Serve hot with onion kachumbar (salad), lemon wedges and mint dip.
Recipe courtesy of Anita Raheja