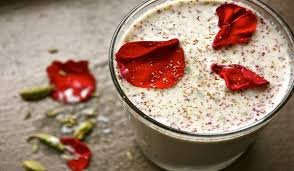 Rich and refreshing flavored milk drink with almonds and cardamom
Ingredients:
4 1/2 glasses water (Measure with Serving Glass)
2 glasses milk (Measure with Serving Glass)
2 cups (400 gm) sugar
30-35 whole almonds
1 tablespoon watermelon or pumpkin seeds skinned
1/2 tablespoon khuskhus (poppy seeds)
1/2 tablespoon saunf (fennel seeds)
1 teaspoon whole peppercorns
1 teaspoon cardamom powder
1/4 cup rose petals (dried or fresh)
1/2 teaspoon rosewater
Method:
1. Mix sugar in 2 glasses of water and keep aside.
2. Soak almonds, watermelon or pumpkin seeds, khuskhus, saunf, peppercorns in water and allow to stand for at least 2 hours.
3. Grind all soaked ingredients and rose petals to a very fine paste.
4. Mix the paste in water and add milk in the mixture.
5. With the help of a strong muslin strainer, strain the mixture in a large deep vessel.
6. Extract all the liquid by pressing through muslin with back of palms until the residue becomes dry and husk-like.
7. Add sugar syrup, cardamom powder and rosewater to the extracted liquid.
8. Mix well and serve chilled.